FDC-Type and FDD-Type 3 Pin Fixed High-Speed Fixed Delay Lines
The FDC and FDD family of fixed single in-line package (SIP) delay line products are available in a variety of types in either standard or custom specifications. SPICE Model is available.
PDF Catalog Download
Features
Miniaturized high-speed fixed delay lines that combine ELMEC's high-density delay line elements in a single in-line package.
Suitable for use with a variety of logic elements including the ECLinPS, ECL 100KH, 10K series as well as TTL FAST, CMOS FACT and analog circuits.
15GHz Band width, available for 10Gbps data signals
Since the FDC and FDD feature the same package size (except for height) and pin configuration, with both types combined a delay time range of 0-27ns (0-15ns in our 50W version) can be adjusted in varying increments of 50ps, 100ps, and 500ps. See the following pages for detailed specifications.
Common Specifications
Package Dimensions & Pin Configuration
FDC Product Specifications
FDD Product Specifications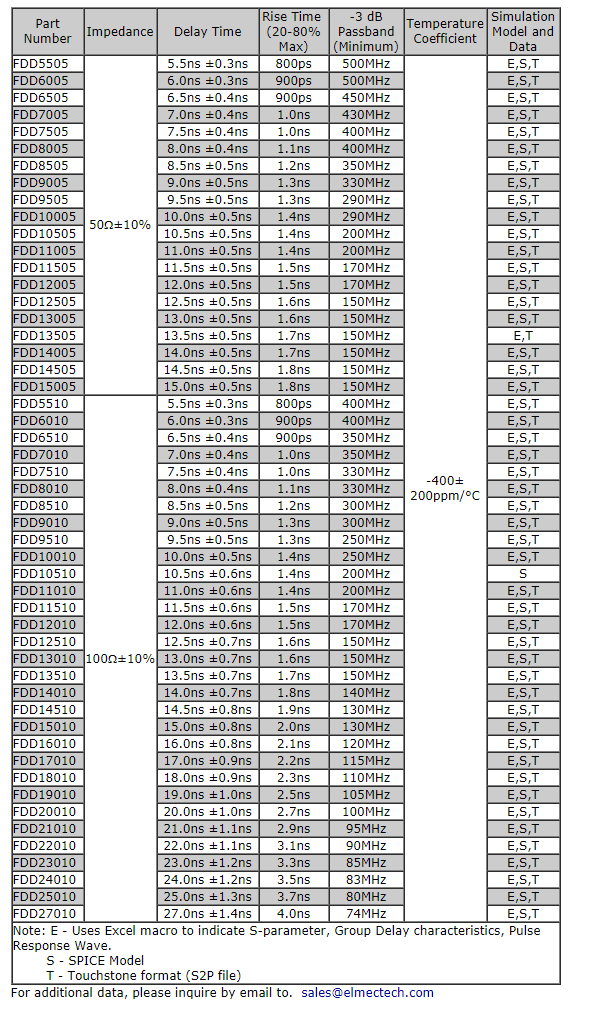 Typical Applications
r: Signal Source Impedance
Rin: Input Adjustment Resistance
Zo: Characteristic Impedance
r+Rin=Zo=R
(1) Analog circuit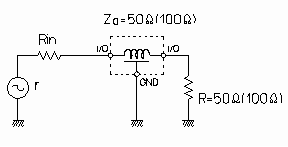 (2) ECL (-2V termination line used)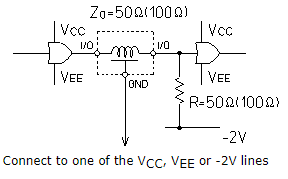 (3) ECL (-2V termination line not used)(PECL)
(4) LVPECL
(5) LVPECL Differential
(6) TTL (FAST), CMOS (FACT)
Output Waveforms
RoHS Compliance Status
1. Compliance Status
RoHS-compliant components are available. However, if RoHS-compliant components are not specified at the time of order, non-compliant stock items may be supplied until depleted.
Differentiating Compliant and Non-compliant Components Compliant and Non-compliant Components will be differentiated by Lot Numbers.
Non-compliant Components: 2-digit year/month code
Compliant Components: S+2-digit year/month code (3-digit code)
Terminal Plating Non-compliant Components: 90% Sn/10% Pb, 7µm Min

Compliant Components: Base: 100% Ni, 0.2~0.5µm
External: 100% Sn, 5~10µm